It is often said that the map of Greece is like an outstretched hand with the fingers being the land that reaches into the Mediterranean Sea. It was quite a spectacle to witness this to be true from an eagle's view as I prepared to land at the Athens airport in the early hours of the morning last month for the 2023 Stavros Niarchos Foundation (SNF) Nostos Conference.
However, little did I know that the Greek people, like their map, always stretch a hand out to welcome visitors to their country and make it a worthwhile stay. How am I ever going to forget to say Kaliméra (Good morning) every morning? They said it warmly, with a smile laced with courtesy.
As I walked into the hotel in Athens with my four Grassroot Soccer (GRS) colleagues who had traveled with me from Bulawayo, we all felt at home, never mind the distance between Zimbabwe and Greece. The weather was beautiful with the sun shining high up in the sky, a welcome escape from the biting winter cold in our home city.
Befittingly, the splendid Stavros Niarchos Foundation Cultural Center (SNFCC) hosted the 12th edition of the conference, which this year centered on mental health under the theme #RefocusOnMentalHealth. I was there with a delegation from GRS to facilitate activities from our MindSKILLZ curriculum, our signature adolescent mental health promotion program which was developed with support from SNF, with conference attendees and delegates. Attending the conference was also a perfect opportunity to learn from peer organizations and to interact with other young people on the critical subject of mental health. 
Our home at the conference was a lush green artificial pitch at the Book Castle at the National Library of Greece, where for four days we led fun and engaging MindSKILLZ sessions. The two activities we led from the MindSKILLZ curriculum, "Juggling My Life" and "Risk Field," were thoroughly enjoyed by the range of participants, including conference attendees from across the globe, SNF staff, unaccompanied refugee youth, and local youth. It was so much fun! We also led participants through the "Power Hand" activity, where participants identify their strengths and how to use them to boost their mental health.
I never imagined in my life delivering a SKILLZ session with a translator by my side, but it happened as I led Greek-speaking participants through our soccer-based mental health activities and discussions. At one point, through the translator, I asked a group a question about what type of stresses they go through as young people. The participants raised their hands in excitement to give answers, and I got to understand that youth are affected by the same things all over the globe. The participants spoke about their opinions not being heard or valued, the effects of bad social media habits, balancing school and relationships, and bullying among other stressors. I realized that mental health is an important conversation that needs to be continuously discussed everywhere.
Young people need coping skills to deal with stress. I was happy that all the participants had strategies that they use to overcome their challenges, such as going to the beach to watch the sunset or sunrise, doing regular exercises, taking deep breaths, listening to music, and most importantly identifying a supporter to share their problems with. This was all eye-opening for me. In as much as knowledge was being shared with the participants, I was also learning myself, finding takeaways that could also work for me personally to cope with the stresses in my life.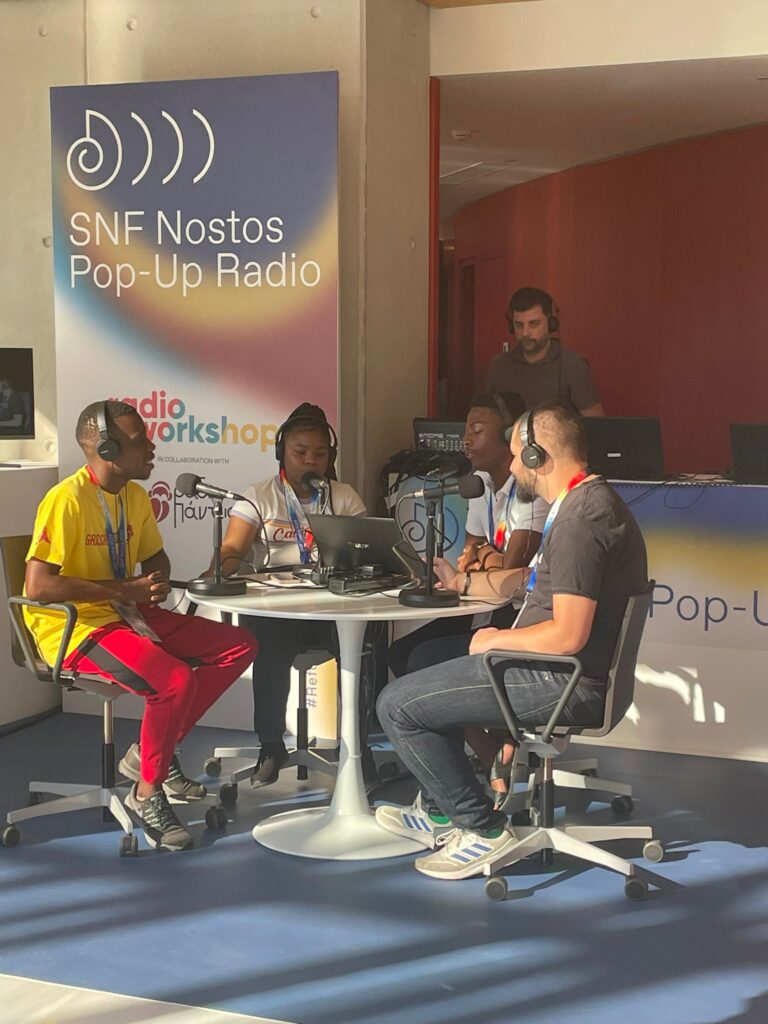 While every activity I facilitated at the GRS pitch was fun and fulfilling, given my background in radio and media, my favorite day from the trip had to be Thursday, when I got to do a radio interview with Radio Workshop, an organization that trains youth in Africa to make radio and podcasts. The radio hosts and their team had all participated in our Risk Field activity the previous day, and we had an interesting conversation on mental health and how the GRS culture of soccer and fun communicates important messaging on the subject to young people. The hosts were particularly captivated by the uniqueness of the GRS activities, and our conversation was telecast in all the conference venues, which was so exciting. 
Later on that same day, GRS Founder and CEO Tommy Clark took to the stage to give a speech about GRS's approach to adolescent mental health, suitably following an impactful conversation between SNF Co-President Andreas Dracopoulos and Tasos Bakasetas, Trabzonspor midfielder and captain of the Greek Men's National Football Team. That way, the impact of soccer in the lives of young people was already in the air when Tommy took over and delivered a moving speech. He narrated the GRS journey that started in my home city of Bulawayo, following the death of his former teammates to HIV and AIDS. They died without any information about the deadly pandemic or any support, when once they had been celebrated footballing heroes. This tragedy inspired Tommy and some of his friends to take it upon themselves to help the upcoming generation through founding Grassroot Soccer.
Tommy went on to talk about the link between mental health and other pressing health issues that GRS focuses on, including HIV and AIDS. For example, HIV cannot be treated alone without taking into account depression, anxiety, and other mental health issues that affect so many youth living with the virus. The two subjects are directly interconnected. At the end of Tommy's speech, GRS Coach Calvin joined him on stage to demonstrate a SKILLZ Kilo, much to the enjoyment of the crowd. When Tommy and Calvin walked offstage, it was one of my proudest moments to be part of the GRS team.
Lastly, my reflection on the conference would not be complete without mentioning Greek food. I found out that the Greeks have a variety of food and I took it upon myself to taste everything! I loved it all, from their cheeses, to meatballs, and watermelon for breakfast. I was also introduced to Tzatziki sauce and oh my God, it instantly became my favorite. I'm still looking for it in Zimbabwe and I will not give up my search. My colleagues who I went to Greece with now call me Tzatziki! 
As I reflect back in Bulawayo, the SNF Nostos Conference might have ended but a refocused conversation on mental health is continuing around the globe. And what makes this conversation especially impactful is the inclusion of young people. Now more than ever, resources like MindSKILLZ, which the participants we worked with in Athens found to be incredibly valuable, are important tools to promote good mental health for young people – from Zimbabwe to Greece and everywhere in between.
Efharisto (Thank you) Athens, Efharisto SNF!