On December 1, Grassroot Soccer (GRS) brought its community of supporters together at the Ziegfeld Ballroom in New York City for its Eighth Annual World AIDS Day Gala in celebration of the organization's 20 years of impact on adolescent health. Thanks to the generosity of the global GRS community, the unforgettable night raised almost $1.9 million for Grassroot Soccer, whose evidence-based health programs leverage the power of soccer to equip young people with the life-saving information, services, and mentorship they need to live healthier lives.
Following a special surprise video message from Ted Lasso's Phil Dunster (aka Jamie Tartt) and some friends from AFC Richmond to kick off the night, Gala host Seth Meyers, the award-winning writer and host of Late Night With Seth Meyers, welcomed attendees with both laughs and an important reminder of the night's purpose.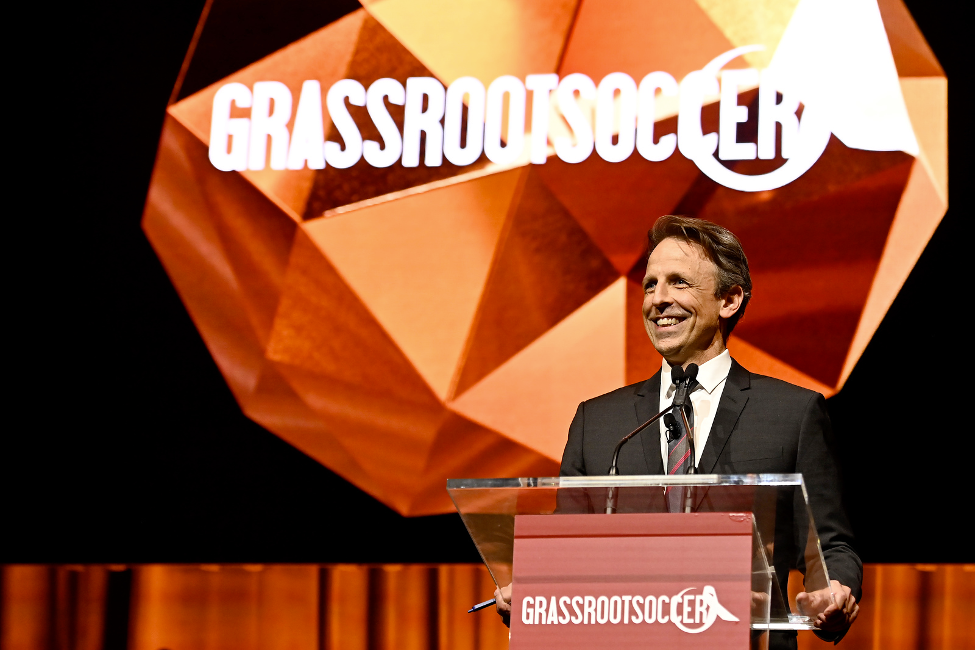 GRS Founder and CEO Dr. Tommy Clark discussed why soccer is such an effective vehicle for engaging youth around their health, and why focusing on working with adolescents in particular is so pivotal. "[Adolescence is] a perfect window of opportunity to intervene and educate young people," Clark said. "The things that they learn, the identities that they form, and the behaviors they adopt at that time will stay with them for a lifetime. They'll pass those on to future generations and influence their communities."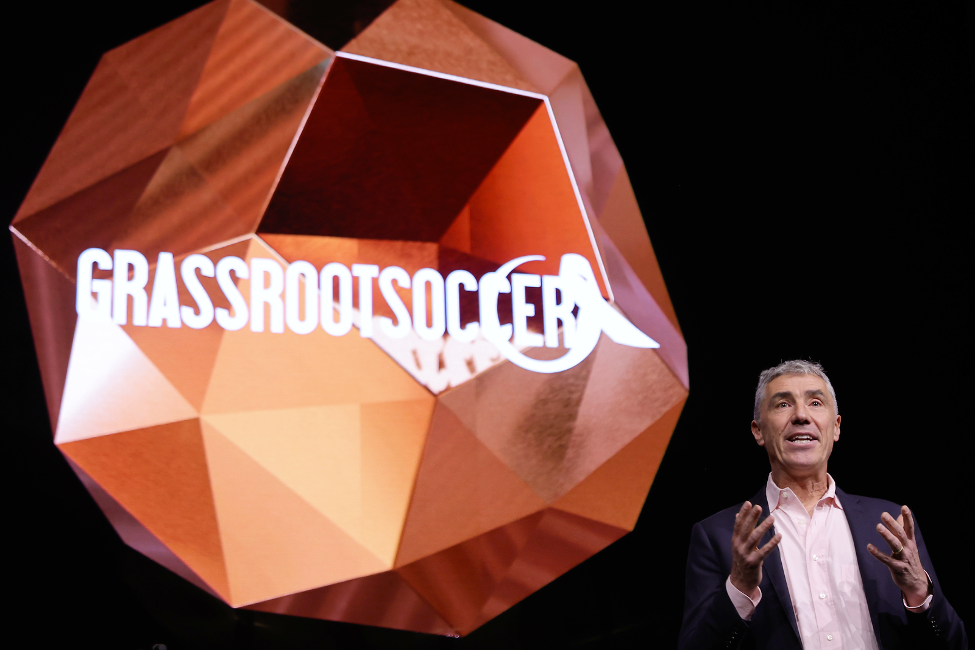 Following an introduction from Gala Co-Chair Erin Summe, GRS Coach Felistus Halisiya shared her inspirational life story with the room through a video message from Lusaka, Zambia. After being told her HIV status at age nine, Felistus later found a safe and supportive community of peers as a GRS participant. Inspired to support youth experiencing the same challenges she did, Felistus became a GRS Coach, whereby she now serves as a crucial mentor for HIV-positive youth in her community through GRS's SKILLZ Plus program.
"I joined Grassroot Soccer so I could help young people living with HIV not to be ashamed of themselves but to consider themselves an integral part of the community, because their lives are as important as any other," Felistus said.
GRS Co-Founder and Survivor: Africa winner Ethan Zohn reflected on how far GRS has come in its 20 years and shared the story of how a chance encounter with HIV-positive children in Kenya while competing on Survivor crystalized for him the power of soccer and its ability to bring people together in any community. Zohn then cued up a special video message from Survivor Host and Executive Producer Jeff Probst congratulating GRS on its 20 years of impact.
Zohn was sporting a limited edition 20th anniversary Grassroot Soccer jersey, designed in partnership with Icarus Football and available at SOCCER.com. Released for World AIDS Day, all proceeds from jersey sales support GRS.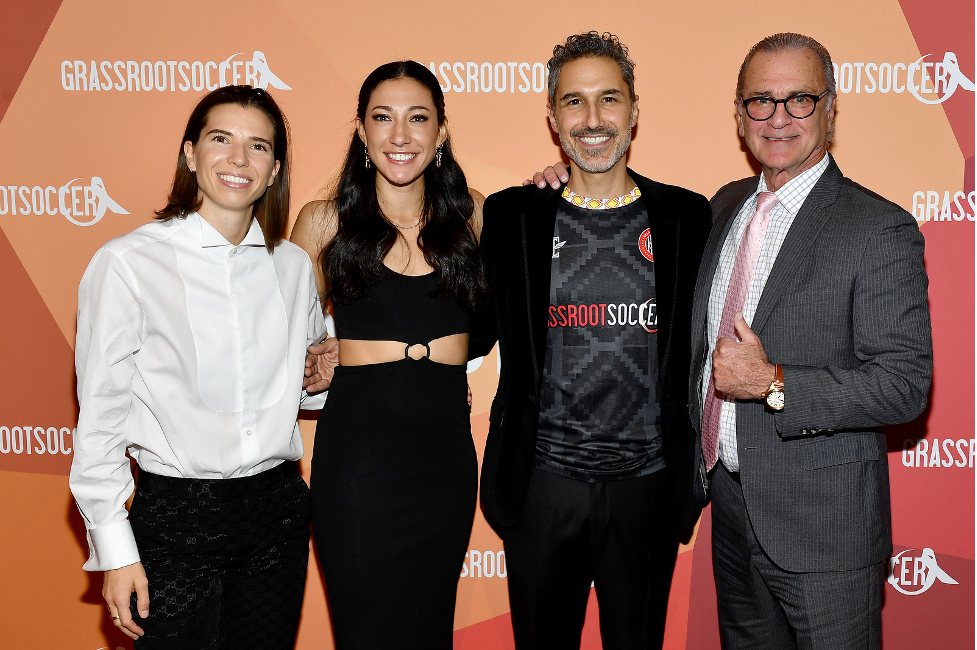 Following dinner, which was curated by celebrity chef and restaurateur Marcus Samuelsson, 2x World Cup Winner and GRS Global Board Member and Ambassador Christen Press came on stage to present the second annual Grassroot Soccer Game-Changer Award to Natalie Portman, Julie Uhrman, and Kara Nortman – the three co-founders of Angel City FC (where Press currently plays) – for their trailblazing leadership in the sports industry and tireless commitment to gender equity on and off the pitch.
"Angel City and Grassroot Soccer have shared values; we leverage soccer for social impact," Press said. "Tonight is particularly meaningful to me as I have the honor of celebrating two organizations that have helped me fulfill my purpose in life – and they've done the same for so many others."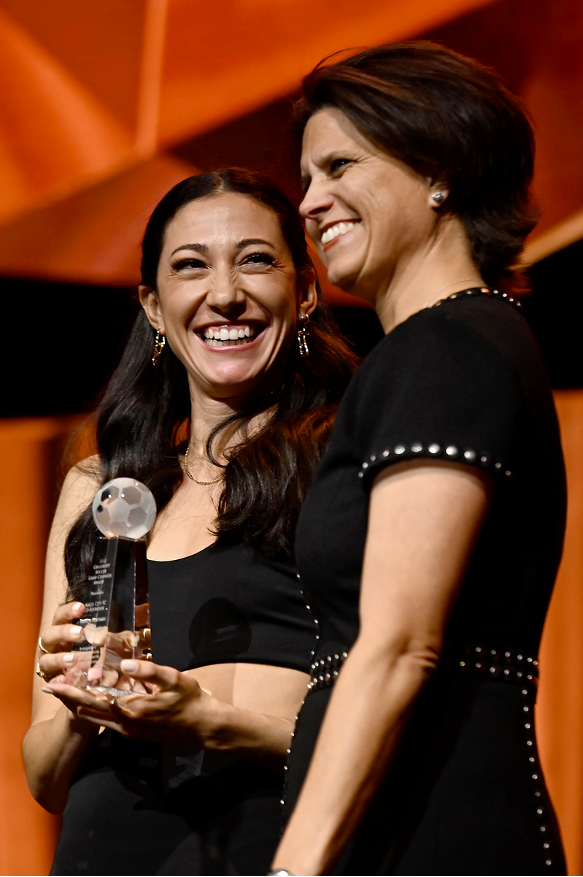 Accepting the award on behalf of her fellow co-founders, Uhrman discussed Angel City FC's commitment to equity and community development, along with how those values drove the club's successes in their inaugural season. "We believe getting to equity is possible, and that's something we focus on and work on every day," Uhrman said. "We have 19 more years to catch up with Grassroot Soccer, but we are up to the challenge."
The evening also featured lively competition for an incredible selection of both live and silent auction prizes donated by a host of generous supporters, including once-in-a-lifetime soccer experiences with Angel City FC; Liverpool FC and the Boston Red Sox; Sir Alex Ferguson and Manchester United; Gio Reyna, Phil Dunster, and Borussia Dortmund; and Weston McKennie and Juventus, among many others. Following the live auction, the surprise announcement of a generous match volunteered by former GRS Board Chair Gregg Lemkau and his wife Kate inspired the room to double their impact during an exciting live match challenge.
The night concluded with an electrifying performance from Afro-Cuban rockstar Cimafunk, who was just recently nominated in the Latin Rock/Alternative category for the 2023 Grammy Awards!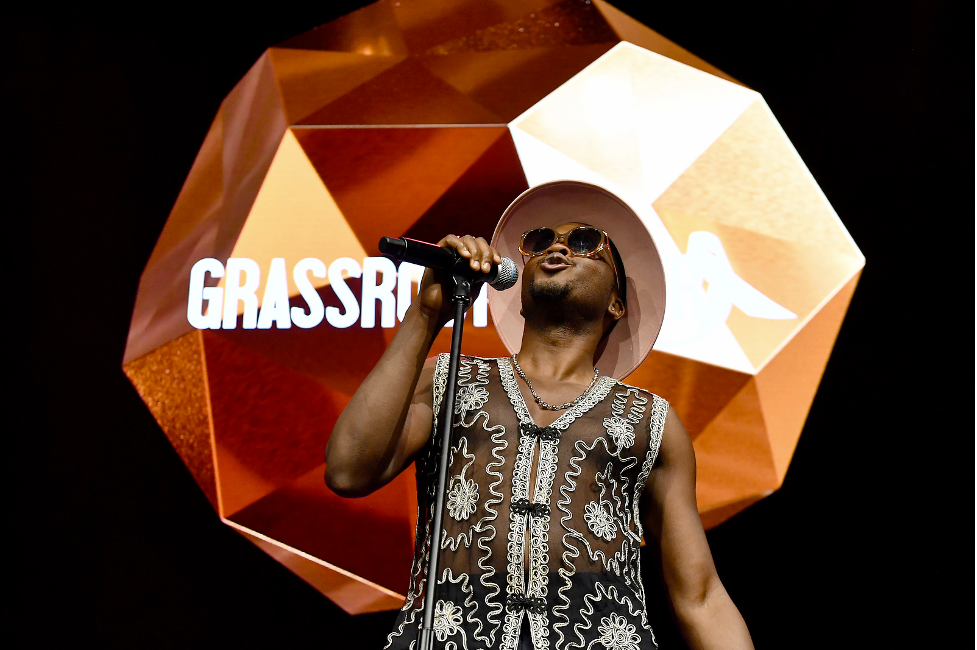 Thank you to all who joined us to celebrate Grassroot Soccer's two decades of impact on adolescent health. With your support, GRS is ready to tackle the next 20 years — and beyond.