In Kenya, where the vibrant energy of youth meets the challenges of growing up, mental health is a topic that can't be ignored. Recent statistics reveal that around 14% of 10 to 14-year-olds face tough moments. The need for tailored interventions couldn't be more pressing. Enter MindSKILLZ  — not just a program, but a comprehensive toolkit designed to empower young minds.
MindSKILLZ, launched by Grassroot Soccer (GRS) in 2022, builds participants' mental health-related knowledge and coping skills. MindSKILLZ targets key determinants of positive mental health that contribute to building a resilient mind, healthy body, and strong support network: mental health knowledge, substance use education, coping skills, self-esteem, social connection, safe spaces, and access to mental health care.
In Kenya, MindSKILLZ Coaches with LVCT Health, GRS's local partner, are working with young people in Nairobi and Mombasa communities to equip them with the support and skills for improved mental health throughout adolescence and into adulthood. This is the story of how MindSKILLZ has made an impact on the life of one participant.
Patience's Turning Point
Patience is a studious fifth-grader from a humble background in Nairobi who dove headfirst into the MindSKILLZ program. Initially, Patience was like a closed book, her laughter hiding behind a curtain of quietude. But what happened next was truly extraordinary.
Building Trust
MindSKILLZ Coach Britney, sharp-eyed and caring, sensed Patience's quiet struggles during the first few sessions of the program. She made it her mission to create a space where Patience felt heard and understood. Through thoughtful conversations and shared moments a bond blossomed, fortified by trust.
Unveiling the Pain
Then came a session that changed everything. Patience's tough exterior crumbled, and her tears flowed like a river. Britney, worried but gentle, asked, "What's weighing on you, Patience?" Through sobs, Patience revealed a daily struggle with feelings of sadness without a clear cause. It was a feeling that had haunted her since she was a little kid.
Discovering Hidden Strengths
After Patience opened up, Britney wasn't one to back down. Together, following Britney's lead, they focused on Patience's strengths and embarked on a journey to uncover Patience's hidden talents. Serendipitously, the next session was all about finding your "power hand," perfectly aligning with Patience's needs. Step by step, Patience unearthed a treasure trove of incredible strengths she never knew she had. Each discovery was a stepping stone towards a more confident, self-assured Patience.
Transformation and Empowerment
Now, with the support of her Coach, a community of supportive peers, and a newfound appreciation for her unique strengths, Patience stands tall, a living testament to the MindSKILLZ program's power. With Britney's guidance and the mental health knowledge and coping skills imparted on her through MindSKILLZ, Patience has reclaimed her self-worth and confidence. Her reflection in the mirror now exudes strength, and she faces life's challenges with newfound determination. Her story is a reminder that every young person holds boundless potential.
A Coach's Secret Weapon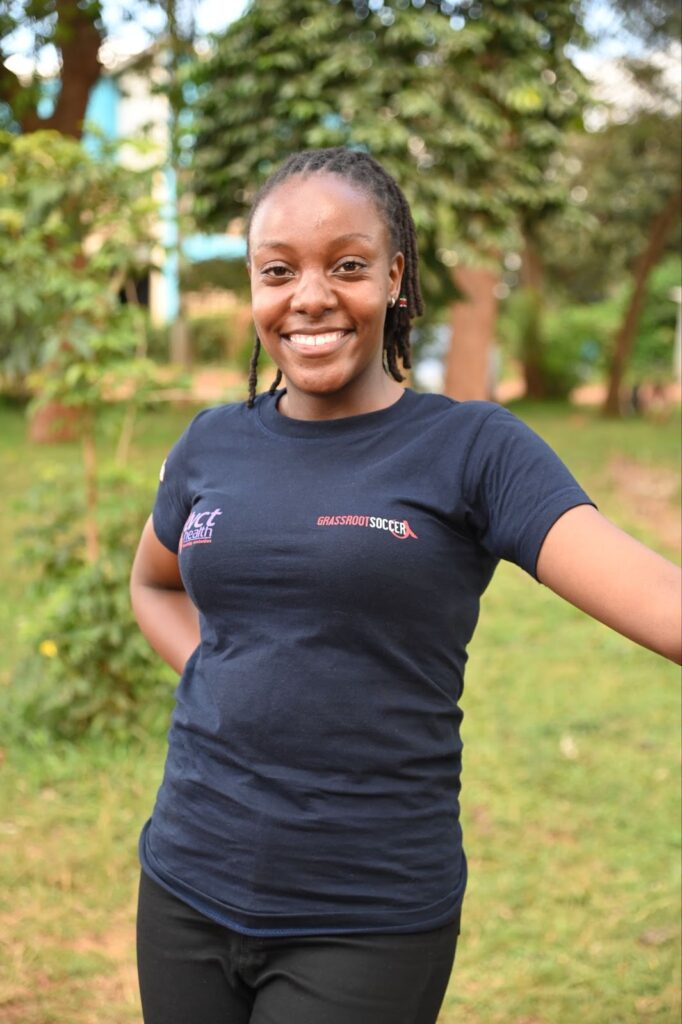 Coach Britney, who herself was once unsure, now wields the powerful tools of the MindSKILLZ program with finesse and confidence. Armed with mental health knowledge, she tackles even the trickiest of issues confronting young people, making a profound difference in the lives of participants. Her journey with Patience has not only transformed Patience's life, but has also further developed Coach Britney's skills and understanding, enabling her to make an even greater impact on every young person she guides through the program.
Reaching Further
Patience's story echoes in the hearts of many young people navigating the complex maze of adolescence. These years are a critical juncture, where early signs of mental health struggles may emerge. In a world where the journey from childhood to adolescence can be rocky, the MindSKILLZ program stands as a guiding light, acting as a guardian and arming adolescents against these challenges.
Through tailored support and structured sessions, MindSKILLZ empowers young people like Patience to face their challenges, uncover their strengths, and stride through adolescence with newfound courage. Data shows that MindSKILLZ participants in Kenya demonstrated a 48% reduction in stigmatizing beliefs about mental health. With statistics backing its success, this program is a lifeline for countless young lives in Kenya. It's a testament to the power of understanding, empathy, and the boundless potential within each and every young person.
Benjamin Mutuku is the Program Officer- Mental Health with LVCT Health.
Britney Ntabo is a MindSKILLZ Coach with LVCT Health.