Fortune Sibanda and Lucky Ndlela first met when they joined Grassroot Soccer (GRS) as SKILLZ participants in Bulawayo, Zimbabwe in 2008. In the SKILLZ program, one of the key activities they participated in focused on the importance of identifying star supporters who can be there for you in good times and bad, a fundamental tool in young people's lives for standing up to peer pressure and boosting mental health and wellness. 
Fortune and Lucky would find their star supporters in one another. Through the program, they formed a friendship that has lasted 15 years and followed them through shared experiences as SKILLZ Coaches, professional footballers, and now university students pursuing their degrees. GRS's Praise Dlakama caught up with Fortune and Lucky as they reflected on their experiences with GRS, and how the lessons learned – and their bond – have helped guide them through life in the years since they met.
Praise: Tell me a little about yourselves and your relationship with Grassroot Soccer.
Fortune: My name is Fortune Sibanda and I am 28 years old. My first experience with GRS was in 2008. I participated in one of the SKILLZ Holiday Camps when I was playing football for Highlanders Juniors. That is when I met Lucky Ndlela. I also did a SKILLZ program during high school. After school, I joined GRS as a SKILLZ Coach while I was playing football for local club Bantu Rovers.
Lucky: My name is Lucky Ndlela. I am also 28. My first encounter with GRS was when I was in primary school in 2006. My second encounter was in 2008 when I was also playing for the Highlanders Juniors and like Fortune said, that is when we met. From there, I also did SKILLZ during secondary school and I was a Coach from 2015 up until 2017, when I left to further my studies in Sports Science at the National University of Science and Technology (NUST).
What do you remember about GRS, and how did you feel being a part of the program?
Lucky: As a participant, I really loved the interactions with my Coaches. They were our role models and seeing them come to us and teach us was something that I really cherished. I remember going home and telling my parents about the program and the Coaches after the first day. They were really happy, and it motivated me to carry on attending the sessions until I graduated.
The program had a great impact on me. At that time I was in Grade Six. We were still young, but if you fast forward to secondary school and even now, those lessons are still vivid in my mind. When I encounter a challenging situation, I know what to do. To be honest, those lessons are the ones that I use to make informed decisions right now. They are the reason why I am still playing football and pursuing my studies, all at the same time.
Fortune: I also liked the SKILLZ Coaches. We all wanted to be like them! Programs were very fun, we were learning and playing at the same time.
The most important thing that I learned was through the '3 SKILLZ To Win' activity. It taught me resilience. There was an example I remember where a soccer ball and a book were thrown to the ground and the ball bounced but the book remained on the ground. That example lingers in my mind. I was even thinking about it this morning when I was going to school! The life we live today requires resilience. Right now, I have school and other things to do, but I mustn't give up because it's challenging. I have to bounce back from setbacks. I got this information from GRS back in the day when I was young, and I still use it today.
Did participating in GRS help you to access and use any health services?
Lucky: I did access health services. GRS offered HIV testing services for free and it was closer to where we lived, which made it easy for my peers and I to go and get tested. I remember the first time when I tested for HIV, it took me three hours to go and check for my results (laughs), but after that it became easier and a habit for me. I am sure that if it was not for GRS, I wouldn't be knowing my [HIV] status up to now.
Fortune: I went for Voluntary Medical Male Circumcision (VMMC) when I was doing my secondary education because of the SKILLZ activity called 'Cut and Cover'. [VMMC is an important strategy for preventing HIV infection.]
In what ways did GRS influence your behavior?
Fortune: GRS had a very positive influence in my life. Where I grew up, bad behavior is a norm and it is condoned. For you to fit into society as a youth, it feels like you have to take drugs and abuse alcohol. When I learned about the risks and consequences involved with these things through GRS, I was able to avoid the peer pressure I was getting from friends to take drugs and abuse alcohol or engage in unprotected sex.
I started to challenge the harmful societal norms with the knowledge I had gained. As a result, I became a reference point for other parents in my community, which made me a role model. At school, I earned good grades because of the life skills lessons I got at GRS. Even in my football career, I managed to play up to the highest level because of what I learned until my career was cut short by a knee injury.
Lucky: Basically, Fortune and I share the same history. We come from the same communities. Drug abuse and early pregnancies are the order of the day, but the lessons from GRS have really helped me.
I am still playing football and there is a lot of pressure that comes with being a professional footballer. However, I still remember those lessons about the dangers of multiple sexual partners, older partners, and all the risks involved. They still ring in my head and help me to make informed decisions. I remember activities that taught us about pursuing and focusing on our goals. At the end of the day, I know that I have to make the right choices.
What do you remember about your Coaches? How did they make you feel?
Lucky: I remember my Coaches; they were friendly and approachable. We were free to ask them anything and they would get down to our level. It was so much fun interacting with them.
Fortune: Our Coaches were community role models, so being close to them was something amazing. Any kid would want to be close to them. They were influential and well known in our community. Any message they shared, we would take it seriously because it came from someone we really admired.
As former GRS participants and Coaches, how did you influence and support each other after going through the program?
Fortune: Through the activity at GRS called 'My Supporters,' I had learned that I should choose my friends wisely; someone who will support me in good and bad times. From the day we met, I discovered that we not only had the same interests, but that Lucky was that kind of a person. We became good friends and we have shared a lot until today – we did the same combination of subjects at Advanced Level, we are now pursuing the same program at university, and we have played for the same football teams, encouraging each other the whole way. It is now more than friendship because even our families know each other. I would credit GRS for this because the lessons I learned, he also learned, which helped us create such a strong bond.
Lucky: He is my go-to guy, whether times are good or bad. We used to walk together after GRS sessions and discuss the lessons we learned and what applies in our lives. He knows everything about me. From when we were youngsters, we have grown up together and we have helped each other to avoid peer pressure.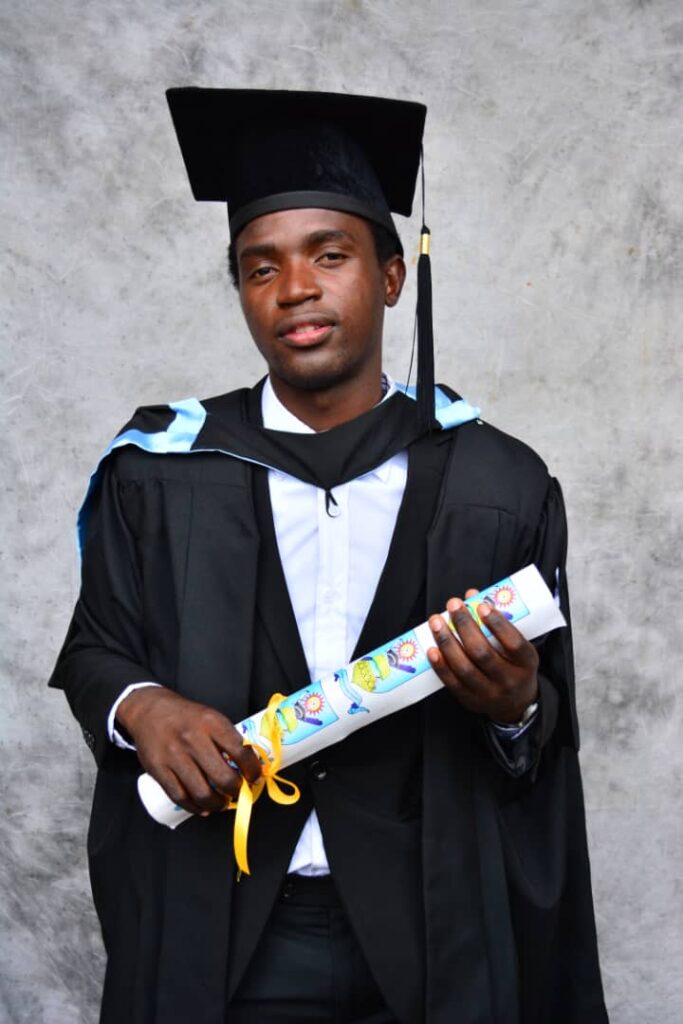 What are you doing now and how has GRS influenced your life today?
Lucky: I am currently doing a Masters Degree in Sports Science at the National University of Technology (NUST). I am still playing football for Triangle United in the Zimbabwe Premier Soccer League. GRS always encouraged us to keep on pursuing our goals and develop our lives. It pushed me to further my studies and helped me juggling my life.
Fortune: Currently I am in my fourth year for an Honours Degree in Sports Science. I am also a Performance Analyst at Adachi Football Club, a ZIFA Southern Region Division One league side. I am glad that at GRS we were encouraged to take school seriously and also take soccer seriously. That is why I am here now. I have managed to balance these things because of what I learned at GRS.