The following story highlights Grassroot Soccer Zimbabwe's DREAMS (Determined, Resilient, Empowered, AIDS-free, Mentored and Safe) programming, in partnership with FHI360, and was written by Grassroot Soccer Coach Rejoice Blessing Murunge.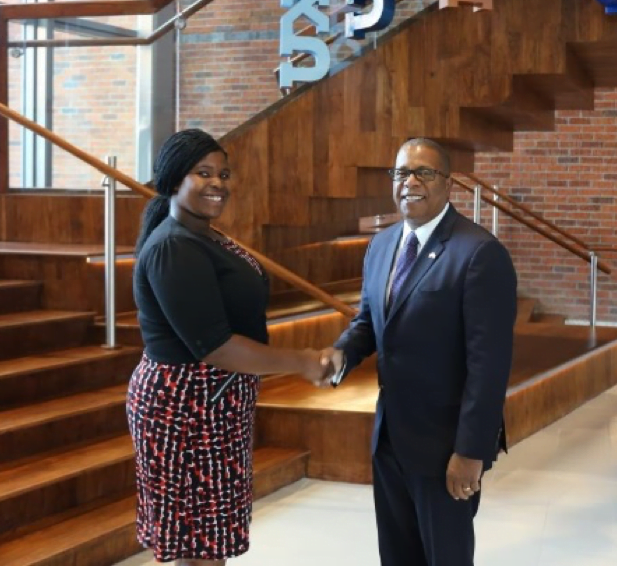 My name is Rejoice Blessing Muruge, I am a young lady aged 19. I just completed my Advanced level at St Dominic's High, in November 2018 and attained 11 points in Pure Mathematics, Biology and Chemistry. My ambition is to be in the medical field.
I was raised by a street vendor who was widowed when I was less than 2 years old and I am an only child. My mother is living with HIV and sometimes falls sick, leaving me to take up the vending role to sustain our family's income. I have met some hardships on the streets which include having older men proposing to me in exchange for money. I am however strong and determined and I have not fallen prey to their devices. Because of this my wish is to one day be able to remove my mother from the streets.
In high school I found myself in different leadership roles which included being a prefect, a mentor patron to the DREAMS club, of which I was also a co-founder. My first encounter with Grassroot Soccer was when they came to my school St Dominic's. As a participant, I was moved by how other young people like myself were able to teach us because amongst the coaches were some of our former school mates. The information that Grassroot Soccer gave us empowered us to think more critical about our future and to protect ourselves from HIV/AIDS. After my A level, I joined GRS as a Coach.  The experience has been amazing as I can move around schools in Mutare district empowering young adolescents to adopt healthy behaviours and to protect themselves from HIV/AIDS.
I love this experience as it has showed me that there are more ways of giving to the community and I have the potential to have great impact not only in my country but in the world at large. I have had the opportunity to meet up with the US ambassador to Zimbabwe to discuss the DREAMS programme and the impact it has on an ordinary Zimbabwean girl child like me and this has even pushed me to become a better person and to achieve my goals.
When adolescents are empowered to make healthy decisions, get the care they need, and break down harmful gender norms that hold everyone back, their healthy future can start now. Give to Grassroot Soccer and change lives today.