According to the WHO, "Promoting psychological wellbeing and protecting adolescents from adverse experiences and risk factors that may impact their potential to thrive are critical for their wellbeing during adolescence and for their physical and mental health in adulthood." The need for innovative approaches to improving young people's mental wellbeing is paramount. In Scotland, this need has become increasingly urgent.
According to a 2018 report by Audit Scotland, which studied how effectively children and young people's mental health services are delivered and funded in Scotland, one in ten Scottish children and young people had a clinically diagnosable mental illness in and, within these, subsets of highly vulnerable populations exist.
Poverty and adverse childhood experiences, for example, are key factors increasing the risk of mental illness among young people. Children living in low-income housing are three times more likely to be living with mental health challenges compared to higher income households.
According to the Audit Scotland report, "evidence suggests that mental health problems in childhood and adolescence have a significant impact on physical health, education and on the ability to find and sustain employment." As a result, tackling mental health is a key strategic priority for the Scottish Government.
One promising approach to improving the mental wellbeing of young people is to bring mental health promotion into schools. In early 2019, Aberdeen Football Club Community Trust (AFCCT) and Grassroot Soccer formed a partnership to design, deliver, and evaluate an innovative adolescent mental wellbeing programme. The result is MINDSET, a 12-session curriculum for adolescents in the last years of primary school and first years of secondary school. The school-based programme focuses on a positive approach to mental wellbeing, enhancing the strengths and skills of adolescents to cope with the stresses of life. MINDSET aims to break down the stigma around mental health by making it normal for adolescents to talk about mental wellbeing.
Piloted at Lochside Academy in Aberdeen, the programme has been well-received with other schools, such as Buchanhaven School in Peterhead, committing to the initiative for 20/21.
Steven Sweeney, chief operating officer of AFCCT, said: "We are finalising the roll-out of taster workshops for schools across the region and, thanks to fans and Aberdeen Football Club investors, who are donating 10% of the value of season tickets sold to the Trust, we will be ready to put these in place at a time when they will be needed more than ever. "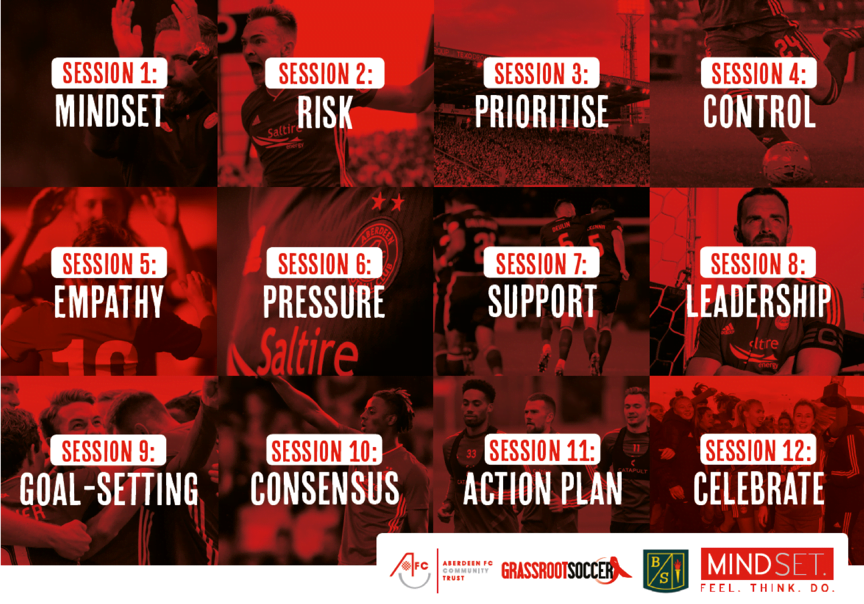 Using the Grassroot Soccer 3C's model of Curriculum, Coaches, and Culture, MINDSET delivers its innovative curriculum in a positive, safe space. MINDSET is designed so that a sport coach or teacher can deliver the curriculum. Experienced facilitators or "Coaches" use the sport-based activities to promote mental wellbeing with adolescents. The sessions build in a cumulative manner and give participants opportunities to practice and apply knowledge and skills in real life situations outside the program.
"As a lifelong Aberdeen supporter and son of former AFC goalie Bobby Clark, I am thrilled that Grassroot Soccer is partnering with AFC, a club with a tremendous reputation, history, and reach," said Grassroot Soccer Founder and CEO, Tommy Clark. "We know that adolescence can be a stressful and tricky time, but it's also the perfect time to provide young people with tangible resiliency tools they can use now and for the rest of their lives."
Two hundred and forty youth have engaged with the programme so far. Preliminary analysis shows participants reported increased knowledge of mental health and wellbeing, improved levels of resilience, compassion and empathy, and increased understanding of how to utilise mental wellbeing coping skills. Participants are also more likely to know where to get help if they are depressed or anxious.
Steven Sweeney added: "As we emerge from the coronavirus crisis, there will inevitably be an upsurge in mental health issues, particularly among young people. The MINDSET programme offers a powerful but pragmatic solution to supporting our youngsters as they cope with the new normal we're all facing. Intrinsically linked to the Club, the Trust is in an ideal and unique position to engage positively with young people through the power and passion for football and sport."
The MINDSET programme is easy to understand, adapt, and implement. Grassroot Soccer and Aberdeen Football Club Community Trust are excited to scale the program throughout Scotland and with Grassroot Soccer partners in Africa.
For some recent coverage about MINDSET check out this recent interview with AFC Community Trust Chairman Duncan Skinner or this recent article in the Press and Journal.