In honor of Grassroot Soccer's 20th anniversary, we are spotlighting former participants from over the past two decades, where they are now, and how participating in GRS programs helped them get to where they are in life today.
Nkosikhona Nkomo is a former Grassroot Soccer (GRS) SKILLZ participant who is now a visual artist at the National Arts Gallery in Bulawayo, Zimbabwe. His work has been exhibited in Zimbabwe, South Africa, and Namibia. GRS recently caught up with Nkosikhona and talked to him about his experience with GRS and how the life skills and health knowledge he learned through SKILLZ a decade ago have helped him become the person he is today.
GRS: What do you remember most about your time as a GRS participant?
Nkosikhona: I liked the way the Grassroot Soccer team showed us how we can turn soccer games into life skills. It made it easy for me to make choices that helped me a lot in life, including now. I can still remember the lessons like it was yesterday and I have achieved many of my goals through the Grassroot Soccer programs.
How did it feel being part of GRS?
It felt like I was part of a family. Some of our classmates before the programs, we didn't really know each other well, but when we were part of the Grassroot Soccer program we were like a family. We played and learned life skills together.
What was the most important thing you learned through the GRS program?
The most important thing that I learned is to know how to set goals. For example, in soccer there are goal posts, and as a player, you aim to score through those goal posts. I wanted to become an artist, and through the lessons GRS gave me, I learned that I cannot reach my goals without protecting myself. I cannot be having unprotected sex and be reckless about my life. Grassroot Soccer taught me that big lesson. I am what I am today because of those programs.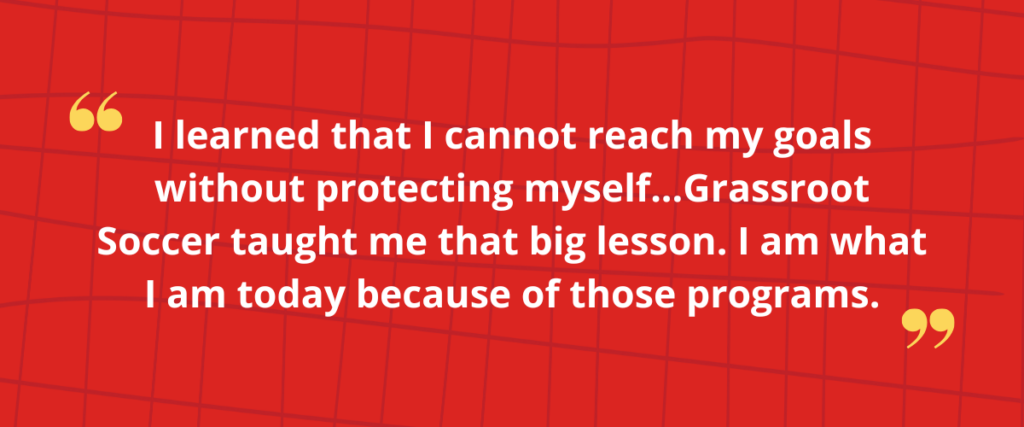 Do you have any stories about how GRS influenced your decisions and behavior?
At GRS, they advised us to get circumcised. [Voluntary medical male circumcision, or VMMC, is an important strategy for preventing HIV infection.] I was afraid to go for medical circumcision, but after learning about it from GRS, on my own I decided to go. I went for HIV testing and then I underwent the circumcision. I learned that it was an important way to protect myself, along with having one mutually faithful partner at a time.
How did GRS help you avoid risky behaviors?
In life, we meet many different friends and many different people. Sometimes friends may say, 'Let's go out and drink.' 'Let me chase this girl for you. 'I can get many girlfriends for you.'
The GRS programs helped me to know what I want and how to protect myself. I managed to avoid going out late at night and having sex with people who are older than me. The most important thing they taught me is to learn to say NO! Saying NO is a big thing. Some may see it as a simple word, but if you learn to say it, you can go far in life.

What do you remember about your GRS Coach?
I still remember my Coach's name. She was called Nobuhle. She was active. She taught me many things and we were very close. She was someone you could go to, talk to, and ask questions. Even after the sessions ended, if there was something that you didn't understand she always had time and accommodated everyone.
What did you tell your family members about GRS and how did they respond to your participation in the program?
Back then, I was staying with my father. He was supportive and he encouraged me to participate in the GRS programs. Even though I was afraid, telling him about the lessons at GRS made him push me a lot and say, 'You can go for it. It will help you in life.' After the sessions, I would go home, sit down with my father and we would discuss what I had learned. He knew the importance of me going for HIV testing, even though I was still young, and he is the one who actually advised me to go and get circumcised.
What are your goals in life now?
For now, I still want to practice more of my art and tell stories through my works. I want my art to pass through Africa and reach many people. I also want to grow old as a healthy man. I want to be healthy, take good care of myself, and protect myself.
What would you like to say to GRS as they celebrate 20 years of impact on adolescent health?
Firstly, I would like to congratulate them for these years of success. Secondly, I would like to give a big thanks to GRS. They have helped a lot of people, including me. I would like to encourage them to continue their programs because it has helped so many people like me.