Daniel, an 18-year-old from Lusaka, Zambia, has faced a number of challenges in his young life. The firstborn in a family of three children, Daniel was raised by his grandmother. Recalling his earlier years, Daniel had no knowledge of any conditions that affected his health. But that changed at age 13 when frequent illnesses eventually landed Daniel in the hospital.
At one hospital visit, the doctor drew some of Daniel's blood for testing. Upon release of the results, Daniel was told that he was HIV-positive. Daniel learned that he had been born HIV-positive, but only after his diagnosis was he first given antiretroviral drugs (ARVs).
"After the results were told to me, I did not know what HIV really was," Daniel remembers thinking. "I thought it was a common disease and curable."
As time went by and he learned more about the virus, Daniel grew increasingly saddened and found himself longing to return to living his normal life. He wondered why he was the only positive case amongst his three siblings, which made him feel withdrawn, anxious, and "like an outcast." As family and more community members around him became aware of his status, verbal abuse and stigmatization soon followed, which further discouraged Daniel and left him feeling unwanted by those closest to him.
It was in this moment of immense difficulty that a caregiver helped Daniel join a youth-friendly support group, which would prove to be a pivotal moment in his young life. Through the support group, Daniel learned about Grassroot Soccer (GRS) and its SKILLZ Plus program: a fun, interactive, and youth-friendly intervention that uses soccer and play-based learning to address the specific needs of youth living with HIV.
At the first SKILLZ Plus session Daniel attended he met Angel, a SKILLZ Plus Coach. Daniel wasn't comfortable at first, but talking with Angel changed his outlook. "I thought I was the only person in the group who was HIV-positive and, out of fear of what they would think about me, I did not want to disclose my status," he recalls. "I approached Coach Angel about my shame, and he revealed to me that my peers in the group were HIV-positive too."
Among this newfound community of peers he could relate with, Daniel learned through SKILLZ Plus that HIV was not the end of life, and that an HIV-positive individual can pursue any goal and dream they might have despite their status.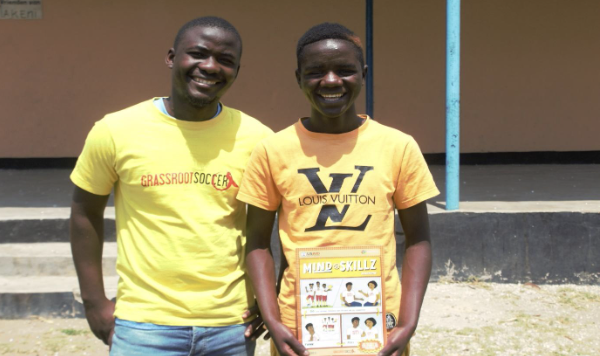 As part of the SKILLZ Plus sessions, Daniel has also been able to focus on his mental health through reading GRS's MINDSKILLZ Magazine: a soccer-based mental health resource that provides youth living with HIV, their peers, and family members with mental well-being concepts and practices that empower them to navigate their mental health challenges.
"There are personal questions that I couldn't ask anyone; this Magazine features not only questions but also solutions that have helped me overcome stress and suicidal thoughts," Daniel says. "I was not comfortable talking to people about my situation. MINDSKILLZ Magazine gave me the confidence to express myself."
Now in his final year of secondary school, Daniel has hopes of pursuing a health-related course in the future so he can help others address difficult health challenges of their own.
Dauti Kalunga is the Communications Intern with Grassroot Soccer Zambia.