LONDON – On Thursday, 23 May, Grassroot Soccer (GRS) Global Ambassador Robert Pirès railed through a match at Stamford Bridge, the home of Chelsea F.C.  The pitch was packed with pro legends, including Rio Ferdinand, Laurent Manuel, Park Ji-sung, and Niko Kranjčar – a rare sight at a single tournament. Alongside them were players on 14 teams, each competing to take home the title of Champion Changemaker. The second-annual Changemaker Cup UK brought together allies of adolescent health, raising funds to empower youth through GRS programming as they confront their greatest health challenges.  
GRS Global Ambassadors Rachel Riley, Oguchi Onyewu, and Quinton Fortune delivered a win for adolescent health with their lively presence at the event, sharing their insights and expertise on and off the pitch. "I'm just honored to be an Ambassador and proud to be part of this," Fortune said at the match. "Hopefully I can play my little part in helping another person's life." Riley was present to lend support and morale, "I've been out and seen [GRS programming] in South Africa, and they do incredible work. I'm here to support everyone and be a bit of a cheerleader. I'm a big football fan – I haven't got my boots today, but I'm here to cheer everyone on." In Onyewu's case, it was clear he came to win. "I'm trying to have fun," Onyewu joked. "Trying to stay away from some dirty tackles and just compete over here. I'm looking forward to it."
GRS Founder and CEO Tommy Clark delivered an address, expressing gratitude to the many supporters of this year's Changemaker Cup and a nod to the tournament's hallowed turf. "A special thank you to the Chelsea FC Foundation for putting on another outstanding day of football for us – It's always a thrill to be hosted at Stamford Bridge." Former professional footballer Niko Kranjčar noted the value of GRS's unique programming approach, "Any foundation that helps people, especially children, is great. It's really special to learn lessons in life through sports and through football – not strictly in a classroom." 
In the end, it was The Disruptors, fearlessly led by team captain and GRS Global Board Member Seb Bishop, who reigned victorious.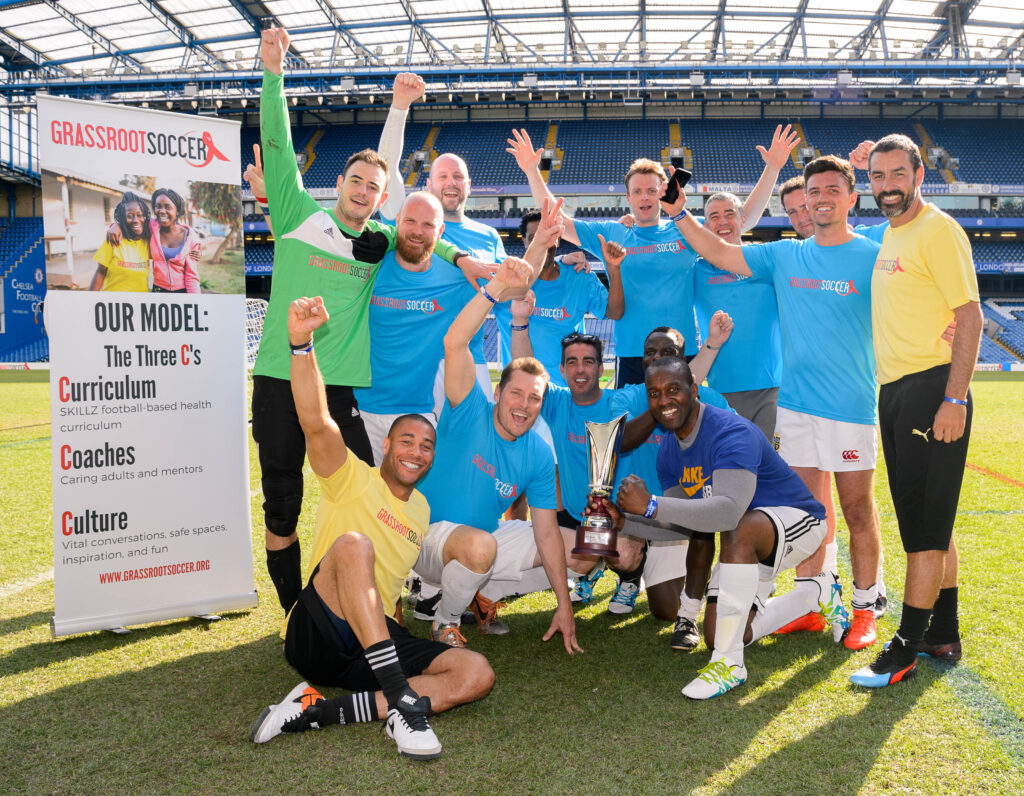 The funds raised will make a direct impact on the ground, growing the number of youth who have benefitted from GRS programming – more than 2.3 million globally since 2003. The impact of GRS curricula is centered around a concept called The Three A's. Each of these pillars – assets, access, and adherence – lends itself to the shared success of Grassroot Soccer Participants and Coaches. Assets provide increased health knowledge and the confidence to use it; Access ensures the increased uptake of high quality health services; and Adherence encourages compliance with medical treatment, therapy, and healthy behaviours. According to UNAIDS, there are 420,000 new infections of young people (aged 15-24) each year in sub-Saharan Africa – equating to 48 each hour, the amount of time spent on the pitch during Thursday's tournament. The success of the 2019 Changemaker Cup UK  will provide funding for 4,400 youth to participate in GRS programmes, connecting them with the mentors, information, and health services they need to thrive.
Grassroot Soccer would like to extend a special note of gratitude to all who participated in the Changemaker Cup and who donated auction prizes. The day was sponsored in part by House 99 and Water in a Box. The generous support of so many continues to empower youth across the globe to overcome their greatest health challenges, equipping them with lifesaving skills while mobilising them to become tomorrow's greatest changemakers. Thank you!
Click here to learn more about our work. Interested in participating in the 2020 Changemaker Cup? Contact info@grassrootsoccer.org. Click here to learn more about the upcoming 2019 Changemaker Cup USA, to be hosted in New York City.