Bill Gates has honored Grassroot Soccer as a "Game Changer."
On his blog, Gates Notes, Bill writes about why, especially during the excitement of the FIFA Men's World Cup, Grassroot Soccer's approach using soccer to empower young people to navigate their most pressing health challenges — along with a record of proven impact — is so inspiring to him.
"Seeing the athleticism and passion on display during the World Cup, I understand why soccer has earned the nickname, 'the beautiful game,'" Gates writes. "What makes soccer even more beautiful is the positive impact it can have off the field. There may be no better example of this than the work of a unique non-profit organization called Grassroot Soccer."
Along with his blog post, Gates released a video highlighting the work of Grassroot Soccer Zambia Coach Kunda Mwitwa, who represents the 13,000+ young adults around the world whom GRS has trained as mentor Coaches since 2002.
"I never imagined I'd be able to share information around sexual and reproductive health using soccer," Kunda says in the video. "People really need to change the way they view soccer. It's not just a game where you go and just cheer and it ends there. It's able to influence positive behavioral change."
Kunda joined a Gates Foundation health innovation event in Doha, Qatar earlier this week, where she was interviewed by soccer legend David Beckham. In their conversation, Kunda spoke with Beckham about Grassroot Soccer's unique approach and how Coaches like her continued providing young people with essential health support and mentorship during the COVID-19 pandemic. Kunda appeared on stage at the event along with fellow health innovators and soccer superstars Didier Drogba, Nadia Nadim, and Michael Essien.
Those three footballers and Gates himself feature prominently in GRS's new World Cup SKILLZ Magazine, which was created with the support of the Gates Foundation. The Magazine is a fun, interactive, and World Cup-themed resource that includes vital information and learning exercises around critical health topics for young people including mental health, gender equality, and COVID-19.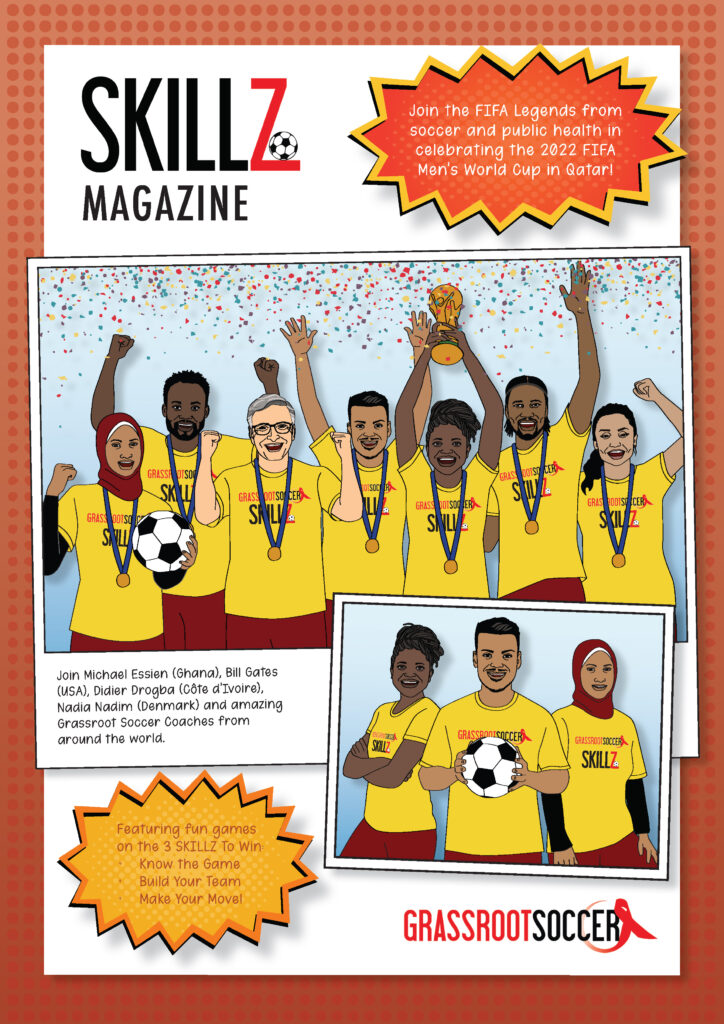 With the eyes of the world on this Sunday's World Cup Final, Grassroot Soccer is honored to have Bill Gates recognize our work in this way and bring attention to our 20 years of impact harnessing the power of the beautiful game to empower more than 18 million young people to live healthier lives.