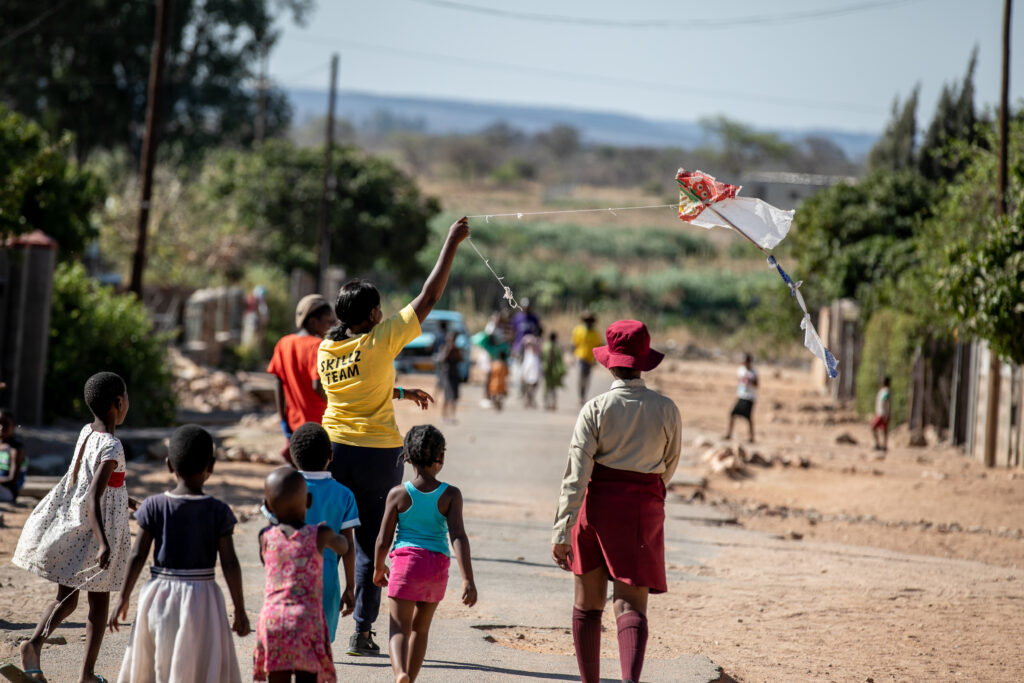 It's been a tough year for all of us; there's no denying that 2020 has brought immense uncertainty to our lives. But there is hope to be found, and Grassroot Soccer (GRS) has found much of it in the way our Grassroot Soccer Coaches have risen to meet the challenges in front of them, acting as lifelines for young people. We have also found hope in the generosity of people like you, who have made it possible for GRS to be there when youth need us most.
We're honoring your support by celebrating triumphs and recognizing achievement, despite a year that brought heartache to many and disruption to all. Here are a few KILO-worthy highlights.
1. With your support, we rolled out a suite of COVID-19 RESPONSE materials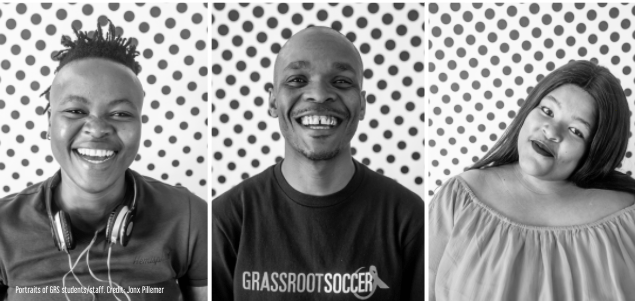 In early April, GRS launched our free, open-source SKILLZ COVID-19 RESPONSE Curriculum. The reception has been tremendous from organizations around the world who are downloading and incorporating the curriculum into their work. As demand rose, so too did the need for fast and accurate translating. What came next was a tremendous show of teamwork, comprised of several partners who quickly assembled to provide pro-bono translations.
As the world faces the ongoing COVID-19 pandemic, GRS has been guided by our long-standing commitment to putting the health of adolescents, and their broader communities, at the center of our work. We are dedicated to our mission – educating, inspiring, and mobilizing at-risk youth in developing countries to overcome their greatest health challenges.
View the full suite of resources here.
2. Armed with three new hard-copy tools, GRS Zimbabwe made life-saving health curricula more accessible than ever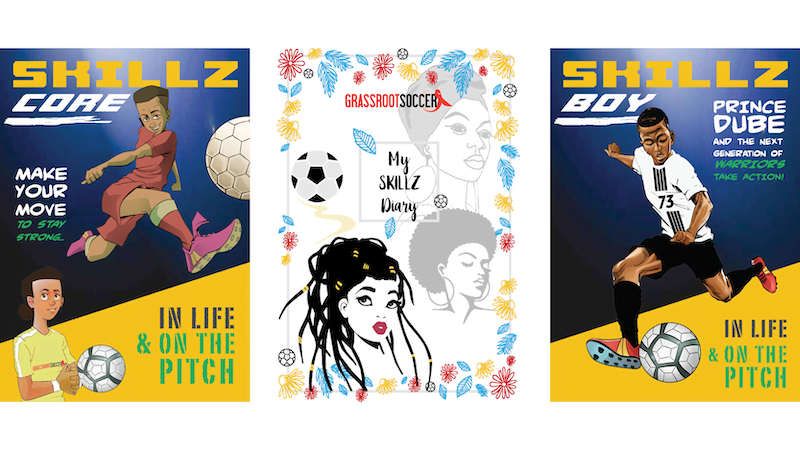 With COVID-19 precautions forcing the closing of schools throughout Zimbabwe, the GRS team ensured youth still had access to accurate sexual and reproductive health information facilitated by trusted GRS Coaches. As part of enhanced programming, GRS Zimbabwe rolled out three new hard-copy tools: SKILLZ Core Magazine (for adolescents ages 9-14), SKILLZ Boy Magazine (aimed specifically at adolescent boys and young men) and My SKILLZ Girl Diary (for adolescent girls and young women).
The magazines are ideal as they can be given to each participant to read in his or her own time. They have enabled GRS Zimbabwe to reach out to both rural and urban youth, who may or may not have phone access. The magazines are interactive, fun, and infused with GRS culture. Participants go through each activity and fill in questions and notes. They are able to check in with their Coaches at regular intervals, leading to further learning opportunities as they review the lessons. Importantly, parents are encouraged to support children at home as they work through the magazines, which has created a platform for meaningful discussions within families around sensitive topics.
3. We continued to amplify the voices of adolescent girls and young women, advancing the pursuit of gender equity worldwide
Prior to the COVID-19 pandemic, adolescent girls and young women faced many health challenges in southern Africa, particularly around sexual and reproductive health, HIV, and gender-based violence. The pandemic has only exacerbated these challenges. The knock-on effects due to lockdowns and school closures are having an out-sized impact on adolescents, and unsurprisingly this is especially true for girls.
Fortunately, role models like Grassroot Soccer (GRS) Zambia Coach Kunda Mwitwa are inspiring the next generation of leaders with a powerful call to action:
Females need a seat at the table. We desire an invitation to be seated there and, in some cases when this isn't available, you know what? We need to learn to create our own table. Because I believe girls with dreams can become women with vision. May we proudly support and empower each other to carry out our vision, because it is not enough to simply just talk about equality. It isn't enough to simply believe in it. One must work at it. Let us work at it together. Gender equality, besides being a fundamental human right, is essential to achieve peaceful societies with full human potential and sustainable development. Women and girls represent half of the world's population and, therefore, half of its potential. In working towards equality, women and girls must view men and boys as partners, not competitors, because our shared relationships are at the core of equality; transforming these relationships requires the involvement of us all.
4. The needs of adolescents remained front and center, and we strengthened adherence support through powerful partnerships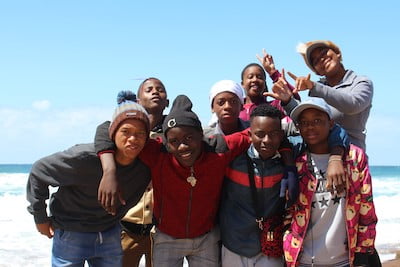 From our friends at YEDI in Nigeria to Comic Relief, powerful partnerships fuel our programming. Among these special relationships is one shared between GRS and AIDS Healthcare Foundation (AHF). GRS delivers the SKILLZ Plus model at the AHF clinic in Kwa-Zulu Natal, South Africa, to support youth living with HIV and their adherence to healthy behaviors. The partnership includes a combination of clinic-based and offsite 'camps' to strengthen peer support networks. More good news? 73% of participants reported adherence, which compares well with similar studies.
"GRS SKILLZ Plus Support Group and Camps assisted me in understanding the importance of accepting that I am HIV positive, and once I had accepted, it was easy for me to take my treatment every day which has helped me a lot in keeping my viral load suppressed. During the SKILLZ Plus Camps, I also received counselling and discovered that I am not alone and that there are other children who are HIV positive. When I first started attending SKILLZ Plus, my viral load was high because I was skipping my medication, but I learned the dangers I was exposing myself to." – SKILLZ Plus Participant at AHF Clinic, South Africa
5. In celebration of collective action, the 2020 World AIDS Day Gala raised over $1 million
"18 years ago it would have been hard to imagine that today we'd have the support of so many world class athletes, a Nobel Prize winner, top-notch entertainers, and global health leaders. It would have been hard to imagine we'd have reached 13 million youth in over 60 countries with GRS health programs. But it's all thanks to generous individuals, from all walks of life, and partners, big and small. It's thanks to our young Coaches, who have chosen to be role models for their communities. And it's thanks to our participants, who show up, who engage, and who are the next generation of changemakers. "

– Tommy Clark, MD, Grassroot Soccer CEO & Founder
On December 1, 2020, Grassroot Soccer (GRS) took its World AIDS Day Gala virtual, with a star-studded lineup helping to raise critical funds to ensure that during COVID-19 youth in Africa don't get left out or become isolated, and can get the support they need to be healthy. The event raised over $1 Million, which will empower thousands of youth with the critical health knowledge, life skills, and mentorship they need to thrive.
With the event going virtual this year, viewers gathered from around the world, hearing from global health luminaries, advocates, entertainers, world-class athletes, and GRS Coaches and participants. Read more about the evening here.
We are filled with immense gratitude to everyone who continues to advocate for adolescent health by supporting GRS programming. From the GRS family to you, we wish you a safe and healthy holiday season.