As the COVID-19 pandemic continues to be a major part of our lives, 2021 carried into it many challenges of the previous year. But Grassroot Soccer (GRS) continued to see hope, resilience, and positive change in every corner of our global community — from the life-saving work of our GRS Coaches, to the rapid and creative innovations of our teams, to the collaborative efforts of our partners, to the generosity of our supporters who made all of this progress possible.
In that spirit, we're ending 2021 with a celebration of our achievements and an expression of gratitude. Here are a few highlights from our year at GRS:
1. We expanded our mental health work and developed an organization-wide mental health strategy.
GRS has long focused on building social and emotional skills to help young people navigate relationships and decision-making. In 2021, we continued expanding the ways in which we apply these same processes to help young people develop coping skills for improving their mental health, and launched an organization-wide strategy to guide our expanded focus on adolescent mental health.
In Zambia, GRS is helping reduce depression among adolescents living with HIV through the Strong Bodies, Strong Minds program. In partnership with StrongMinds Zambia, GRS now screens SKILLZ Plus participants for depression and enrolls clinically depressed participants into a proven group therapy program delivered by trained GRS Coaches.
In Scotland, GRS continued its partnership with Aberdeen FC Community Trust to implement MINDSET, a program that engages and empowers young people to develop knowledge and habits that promote mental well-being, including ways to regulate their emotions. GRS also launched a new project in Zimbabwe to develop and pilot an adapted version of MINDSET for integration across GRS SKILLZ programs in sub-Saharan Africa.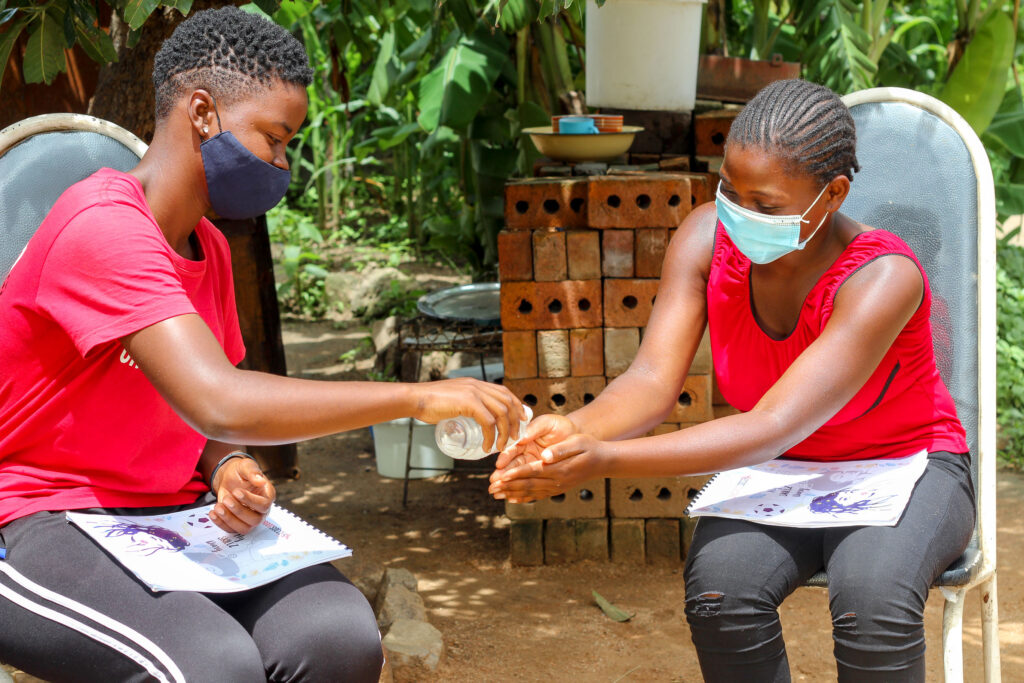 2. We continued to innovate and scale COVID-19 adaptations to link adolescents with life-saving health information, services, and support during the ongoing pandemic.
For young people in the communities where GRS works, the COVID-19 pandemic continued to add more health challenges in 2021. To respond to this heightened need, GRS continued adapting and scaling several innovations developed when the pandemic first arrived.
For example, GRS is leveraging the power of technology to engage young people while in-person programs are not possible, such as through the cell phone-based 3-2-1 SKILLZ game, which is allowing young people in Mozambique and Nigeria to engage with critical information on topics such as relationships and changing bodies. Digital innovations like this represent exciting new territory for GRS, with the potential to reach tens of millions of adolescents — and stay connected to them for years to come.
In Zimbabwe and Nigeria, GRS continued to roll out SKILLZ Magazines — fun, interactive, and remote resources that make GRS's life-saving curricula more accessible than ever before. More than 40,000 young people have engaged with the magazines since the start of the pandemic.
GRS also updated its open-source SKILLZ COVID-19 RESPONSE Curriculum — a simple and engaging way to help young people increase their knowledge about COVID-19 and learn practices to stay safe — with new content focused on raising awareness about vaccines and methods for coping with the stress of the pandemic, like deep breathing.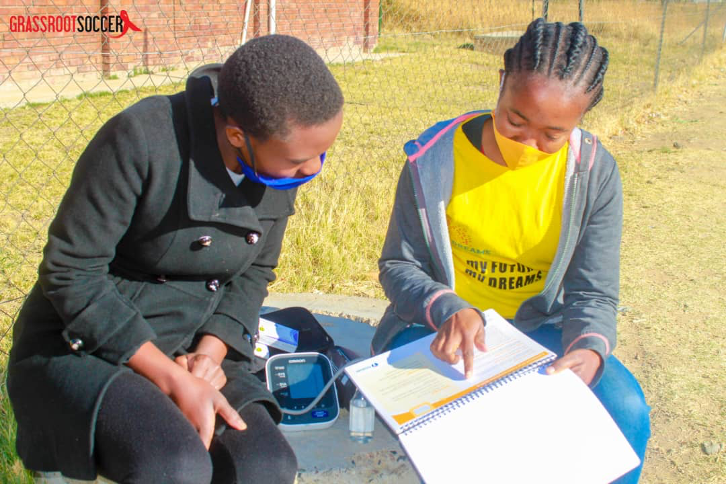 3. GRS Coaches brought critical youth-friendly services out of clinics and into communities.
When health centers shut down or pivoted to focus on COVID-19, GRS and government partners in Zambia and Zimbabwe trained GRS Coaches to deliver critical but difficult-to-access services to adolescents directly where they live. Both governments recognized GRS Coaches trained as Youth Health Assistants as essential healthcare workers, which allowed them to move freely and reach young people with services (such as family planning and HIV testing) when the pandemic made clinics even less accessible.
GRS is the first and only organization to partner with the Zambian and Zimbabwean governments to train youth mentors as community health workers — and the impact has been overwhelming. Preliminary findings from an evaluation examining this model indicate a 300% increase in contraceptive referrals despite the barriers young people face during the pandemic. The evaluation also found a significant increase in unintended pregnancies and unsafe abortions averted since GRS rolled out the model in Zimbabwe in 2020, along with cost savings to the healthcare system.
4. We scaled our successes through government partnerships.
GRS partners with governments around the world to implement our programs at scale and improve adolescents' uptake of critical health services in sub-Saharan Africa. For example, GRS continued to engage young people through its expansive U.S. government portfolio supported by PEPFAR, USAID, CDC, and Peace Corps, reaching more than 90,000 young people throughout the year with critical information and services related to HIV and AIDS, gender-based violence, and family planning. This year also marked the exciting launch of several new USAID-supported programs (including USAID's flagship adolescent family planning project in Nigeria), as well as direct PEPFAR funding that builds the expertise of SKILLZ Plus Coaches to improve HIV service delivery in Zambia and a continuation of PEPFAR-funded programs in South Africa, Zambia, Zimbabwe, Malawi, and Botswana.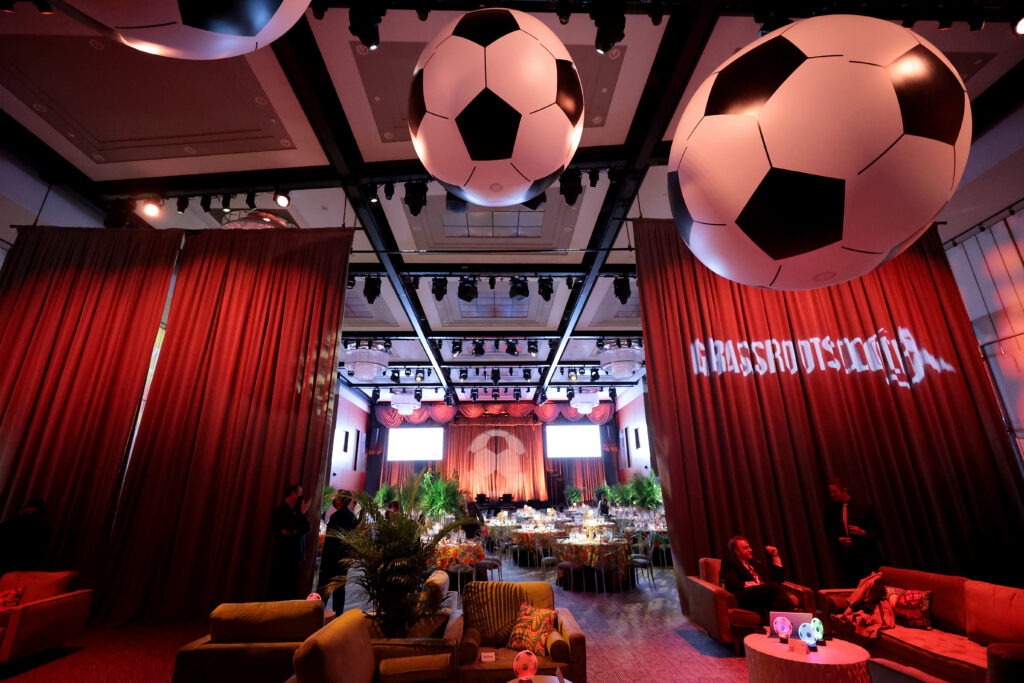 5. Our Seventh Annual World AIDS Day Gala raised over $1.6 million for GRS programs.
On November 30, GRS brought supporters together in New York City — and around the world via livestream — for Change the Game: Grassroot Soccer's Seventh Annual World AIDS Day Gala. Thanks to the generosity of the global GRS community, the incredible night raised over $1.6 million for GRS programs!
The Gala program featured award-winning entertainers like Seth Meyers, global health luminaries like Dr. Phumzile Mlambo-Ngcuka, and soccer royalty like Sir Alex Ferguson and Christen Press. Taking place on Giving Tuesday, the evening celebrated GRS's impact, championed the power of soccer to engage adolescents around their health, and raised critical funds for GRS to ensure that young people in Africa aren't left behind.
---
Reflecting on the year, we're proud of all that we accomplished, grateful for the support of our community, and excited to bring this momentum into 2022. Thank you for standing with us in 2021, and wishing you the best for a happy, healthy, and productive new year.