Imagine a six-hour flight to a nation with the world's youngest population? A nation with 45 million strong, hospitable, and generous inhabitants whom you would swear were born of the same mother? A nation so safe you can "happen" (have fun) to the wee hours of the morning without worrying about your safety or of those you love?
Yes, this was me cruising at 36,000 feet above sea level from my native Zimbabwe to Uganda, a nation affectionately called the "Pearl of Africa," for my maiden Grassroot Soccer (GRS) SKILLZ Core training in the country.
SKILLZ Core is GRS's mixed-gender intervention for very young adolescents aged 9-14 in which trained young adult mentors — SKILLZ Coaches — engage participants through an interactive and gender-transformative curriculum that addresses core sexual and reproductive health and rights topics, including HIV and violence prevention, gender, and power dynamics. As part of a partnership between GRS and the Western Uganda World Education Bantwana program (WUBP), I was there to train a new cohort of Coaches to bring the SKILLZ Core program to young people in their communities, working toward a long-term goal of reducing sexual and other forms of violence against pre-adolescents and adolescent boys and girls in Western Uganda.
When I touched down in the capital of Kampala and linked up with my GRS colleagues, Program Specialist Alex Bozuwa and Trainer Godknows Ngwenya, the city was abuzz with traffic jams on every street. What quickly caught my eye was the abundance of motorcycles, commonly known as the Boda Boda, transporting citizens of all ages, races, and creed around and about. I later learned the term Boda Boda was derived from their origins in the border-line areas, where they would carry passengers literally from border to border in a flash.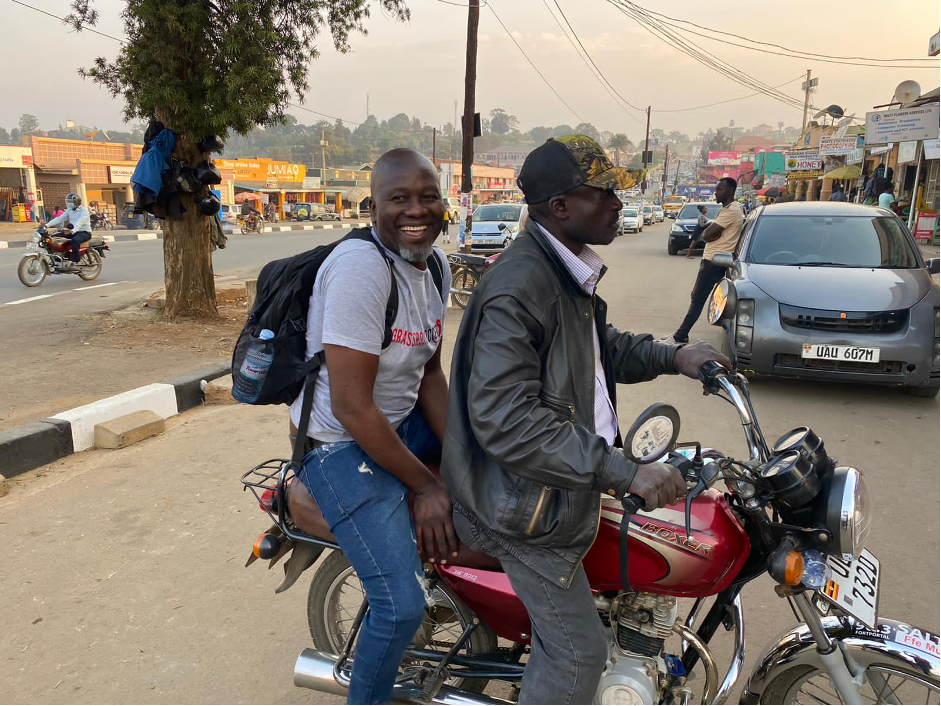 Upon checking into our hotel, all locals I met kept asking me if I had tasted the local food, most notably the famous matoke, G-nut (groundnut) soup, gonja (fried bananas), cassava, and sweet and Irish potatoes. I soon would indulge in the most scrumptious and filling meals ever for the next six days, and I wished I could carry some of the gonja back home with me!
The next day, Alex, Godknows, and I arrived some 295 km from Kampala at a tourist resort called Fort Portal, where our SKILLZ Core training would take place for the next five days. The town was so clean, the people so friendly, and the landscape so mountainous and serene. Come the following morning, 30 excited potential SKILLZ Coaches and eight field officers from three districts of Western Uganda (Kabarole, Kyenjojo, and Buyangabu) gathered for a memorable five-day training on implementing the program, with a focus on the prevention and mitigation of violence against children in schools and surrounding communities.
The training began with introductions, outlining expectations, sharing the background to the GRS-WUBP partnership and the entire program, and stating steps to achieving excellence as a SKILLZ Coach. It was fascinating to introduce energizers (exercises to get participants engaged and excited) and KILOs (short celebrations sharing praise) to the group — the training venue was transformed with such excitement and anticipation as the participants rode the wave of ecstasy generated by the GRS culture of fun and high energy. The smart KILO and the Coca Cola KILO had everyone on the dance floor, while energizers like "I am a Doza Doza Doza" unearthed hidden rap talent among the group!
The group also learned about the "BIG 5" components for SKILLZ Coaches to build and maintain positive relationships with participants, as well as the "11 BEs," which highlight what an effective Coach should be when leading an activity to bring about the greatest positive change. Both the BIG 5 and the 11 BEs set the tone for teachbacks, in which participants demonstrate the activity they were just trained on, and were a gold standard that every individual aimed to achieve by the end of the week and beyond.
I was amazed at how the programs director, managers, field officers, and participants were all able to de-role, voluntarily handing over their multiple hats in a quest to acquire knowledge, skills, and tact on how to prevent and mitigate violence against children in their schools and communities. Practices on "Join the SKILLZ team", "Build your Team", "Understanding Gender", and "Violence and Risk Mapping" generated a lot of debate, as well as a lot of fun on the pitch. "Take a Stand" sessions brought out a lot of myths and misconceptions around health and gender, while also providing a platform for knowledge sharing and transfer from facilitators to participants and vice versa.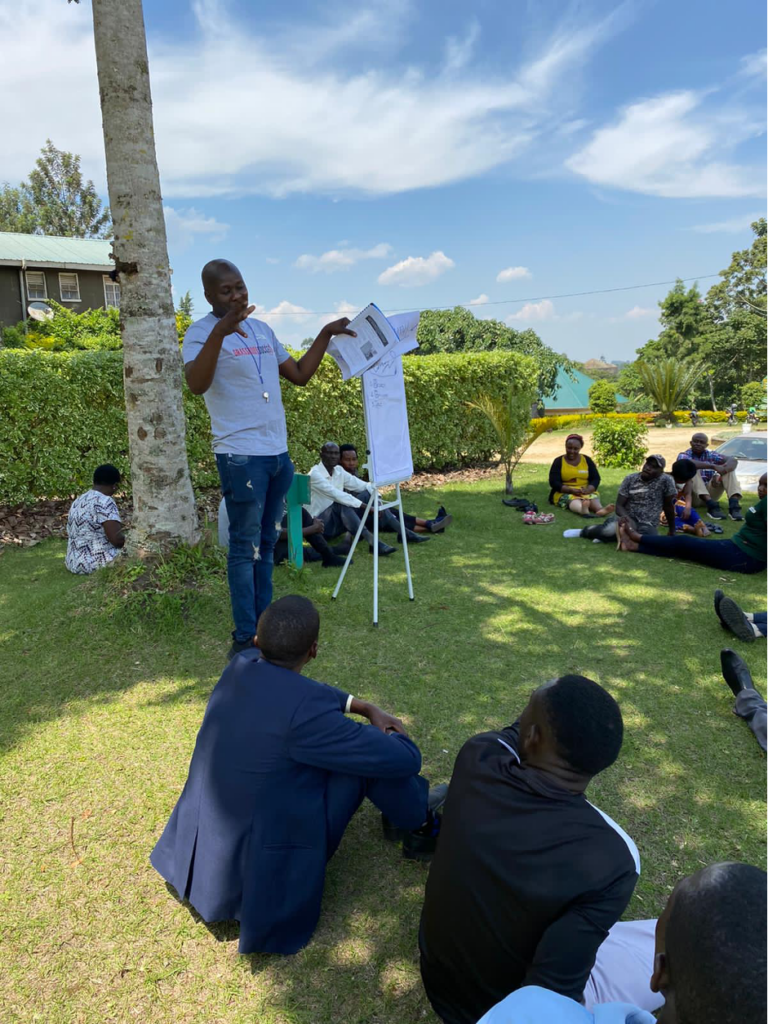 The middle part of the training focused more on health and gender content as well as teachbacks on curriculum activities. In the teachbacks, it was gratifying to see participants take on the roles of Coaches and youth and reflect on what they had learned in the training. It was fantastic to see how participants enthusiastically welcomed feedback from facilitators and fellow participants, and how they were able to use praise effectively to spark vital conversations and establish personal connections with one another.
The training ended with practical steps for program implementation and Coaches' roles in monitoring and evaluation. Participants were now ready to go into their communities as game-changers and role models! Receiving their SKILLZ Coach t-shirts and equipment bags only heightened their excitement, as did a rendition of the Rutooro (local language)-blended energizers, as one of the most quiet participants during the first two days of the training led his counterparts in a famous Rutooro dance using the head, hands, arms, and legs like a frog jump stance.
The last moment of the training was the sweetest for me. I, together with Alex and Godknows, took selfies with all the participants (with some even going an extra mile to get those selfies printed to A4 size!). I felt like I was on top of the world — it was so gratifying to see motivated game-changers willing to take on the challenging and essential work of taming violence against children in their communities. When we said our goodbyes, my phonebook had 38 new contacts for SKILLZ buddies in the adolescent health game-changing team.
But wait a moment! My visit would not have been complete without a mountain climbing experience to the summit of Fort Portal to behold the uterus-shaped crater deltas — and to take a few selfies to celebrate our SKILLZ victory of training a new cohort of champions in preventing violence against children. Such was my short but memorable sojourn to the Pearl of Africa!
Blessed Bukhosi Gumbi is a Training, Business Development, and Programs Support Consultant with Grassroot Soccer. He is based in Bulawayo, Zimbabwe.