The DREAMS (Determined, Resilient, Empowered, AIDS-free, Mentored and Safe) Initiative is an ambitious $385 million partnership to reduce HIV infection among adolescent girls and young women (AGYW) in HIV priority areas within ten Sub-Saharan African countries. The ten DREAMS countries accounted for nearly half of the new HIV infections that occurred among AGYW globally in 2014. PEPFAR (U.S. President's Emergency Plan for AIDS Relief), along with the Bill & Melinda Gates Foundation, Girl Effect, Johnson & Johnson, Gilead Sciences, and ViiV Healthcare, drives the ambitious $385 million DREAMS Partnership.
Grassroot Soccer is contributing to DREAMS outcomes in partnership with the Centre for Communication Impact (Communities Response) in South Africa and in partnership with SAfAIDS in Zimbabwe.
Below is one success story from our DREAMS programming in South Africa.
---
By Coach Onkgopotse, as told to GRS DREAMS Program Coordinator Thato Mnculwane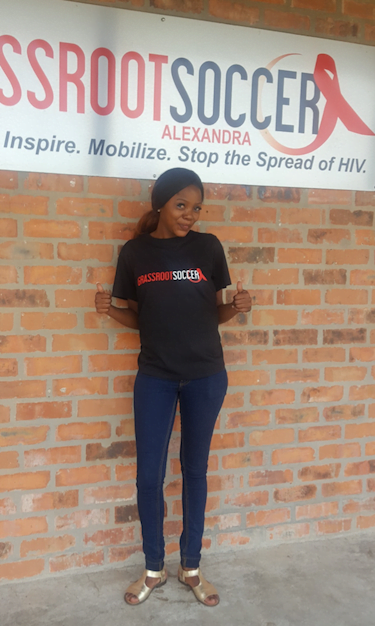 In the hustle and bustle of Johannesburg, you will find a small overpopulated township called Diepsloot, and that's where I hail from. Born and bred. My name is Benediction Ongkgopotse Moeng. I am 26 years old and I am a single parent of two wonderful children, Hope (7 years old) and Brilliant (4 years old).
As I became a young woman, I discovered dating and sex and by the age of 19, I had my daughter. My mother helped me raise her, and three years later I had my son. It was tough for me to expect my mom to help me with this child as well, but I had support from the father until he was 15 months old. At that time, I lost my job and then it got real.
After being so used to fending for myself that I found it hard to ask my mom for money. In our society girls think it is important to keep up with the current trends, and suddenly I couldn't afford to have the hair I wanted, do my nails, or wear clothes that I loved. Worst of all, I couldn't afford to take care of my children and family, my mother was suffering, there was no food in the house, and I couldn't do anything about it.
So I made a choice… The worst choice of my life. I decided to turn to sex work. I thought I would only do it once, but when the money ran out and I was in the same situation again, I went back. I couldn't find a proper job and I started becoming aggressive, moody and angry. I did not like the person I had become and I did not feel great about myself.
Last year, a cousin told me about the DREAMS Project at Grassroot Soccer. She knew it would be a great opportunity for me. I was so happy to turn away from the negative life I was living and I knew it was only a matter of time until it destroyed me. I was so happy when I was accepted! Since then, I have stopped sex work completely. DREAMS has given me a new lease on life, and being part of a project that focusses on bettering the lives of young girls makes me feel so proud. I know for a fact that the girls we reach won't end up like I did.
I have learnt that no matter the road travelled, there is always a chance for a better opportunity – I am living proof of that. My family started noticing the change in me, even though I have only been here for three months. I have learnt how to manage my anger and I am a happier person. I am surrounded by positive people and I have made friends who have a positive influence on me. And doing the sessions doesn't only teach the participants – I also keep learning new things! My mother is over the moon. She tells me that come what may, she will always support me. I am so grateful to DREAMS and Grassroot Soccer for affording me this life changing opportunity.