Mojalefa Murubane is a new Programme Facilitator for the GRS Community Responses programme. He worked as a SKILLZ Coach in Alexandra from 2015-2017. Here is his story, as told to Tirelo Makwela, Communications Intern.
Through Community Responses, GRS is working in partnership with the Centre for Communication Impact with support from USAID. The initiative has 3 goals: 1) Increased engagement by local leaders to mobilize communities to reframe social norms to support HIV and sexual and gender-based violence (SGBV) prevention; 2) Expanded implementation of community led interventions that utilize locally appropriate prevention strategies relevant to target audiences; 3) Effective community based models for SGBV Prevention and linkages to SGBV services.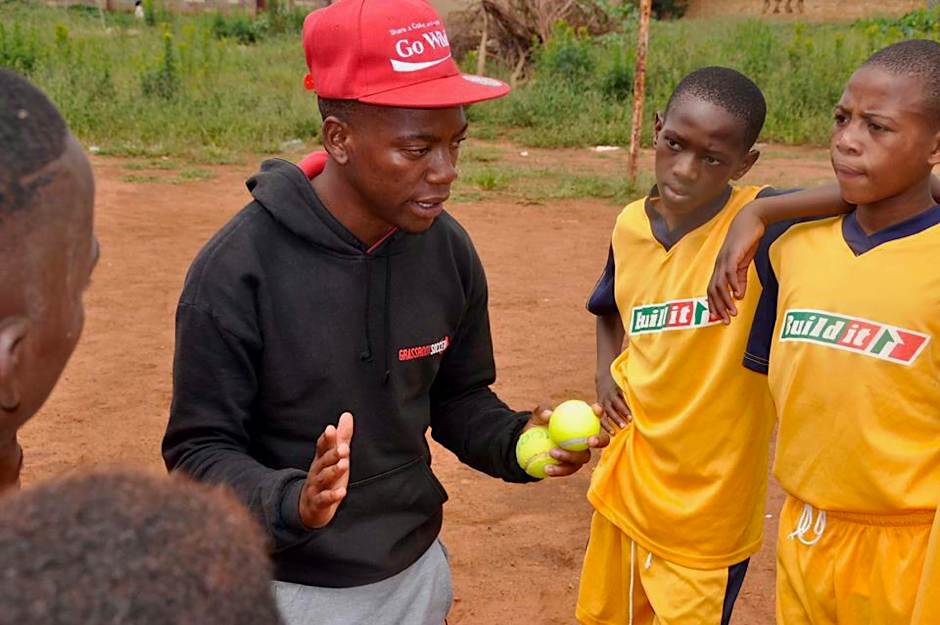 My name is Mojalefa Murubane and I was born in Mafikeng, in the North West province, South Africa. I lost my mother when I was three years old, and then moved in with my grandmother in Soweto, Johannesburg.
In November 2013, during my matric year [senior year of high school] my grandmother got sick and passed away during my final exams. It saddened me deeply because she was the one person that knew me. I had hoped that after I finished school, she would be the one who would enjoy my successes because she was there for me all my life.
Upon receiving my final exam results, I moved to Alexandra township with my extended family, in the hopes of furthering my studies at a tertiary institution. Unfortunately, I didn't find a school, so I thought of taking a gap year in 2014. A friend of mine told me about a programme at Linda Thwala (a local community centre in Alexandra), about career readiness, preparing for the job market, and the corporate world. Unfortunately, the programme was reaching its end, and I wasn't sure what else to do. I heard Grassroot Soccer was looking for Coaches and because I grew up playing soccer from an early age, I became interested as I thought it was about coaching soccer for learners in school.
I love soccer to an extent that I had dreams of playing for a professional team in the PSL (Premier Soccer League). Whilst that dream fell through, the love of soccer still exists! I was selected to join the SKILLZ Team in Alexandra in 2015. I came to Grassroot Soccer and I went through training and learnt that the programme is more about life skills coaching for adolescents than soccer coaching.
I love teaching. I had a teacher that taught me about life, so once I joined GRS it all came back to me. If I can do the same thing for another child, then I can make a huge difference in the life of another person and in this world. Because teaching was in my heart, I believed being a SKILLZ Coach at Grassroot Soccer would help me become comfortable being in front of youth in a classroom setting, and contribute towards my newfound career goals. Although facilitation and teaching are different, I feel that having the skills and experience in facilitation will help me when I finish with my degree in the coming years.
I completed my 2-year SKILLZ Coach tenure in December 2017, and just recently I got the opportunity to join Grassroot Soccer's Community Responses programme as a Facilitator! When I received this news, I felt happy, emotional and empowered. Because I came to Grassroot Soccer as a volunteer, being part of the Community Responses team is truly empowering—it is my first job and it is with an organisation and area of work that I really enjoy. I have started a journey to prove myself and all those rooting for me that I can do it, and I will succeed and achieve more. My aim is to give everything I have, and share the knowledge and experience that I received during my years as a SKILLZ Coach.
Usually when people ask me what is my name, I say I am Grassroot Soccer, because Grassroot Soccer has groomed me to where I am today. The opportunities I have had have made me feel the need to give more, because to me Grassroot Soccer has been like a parent to me since I grew up without my own parents. With the tools, experience and knowledge I gained with GRS, I feel an extra responsibility to give back to others who haven't had an opportunity to be part of the Grassroot Soccer team.